Here's How Helpmeet U Works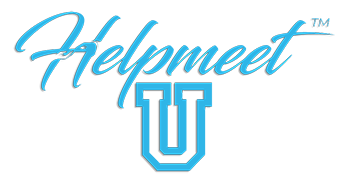 *This video must be viewed before you enroll!

At the end of this short video, continue watching to access the link to enroll in Helpmeet U.
Enrollment Cost: $200 & it includes the following:

Quarter One Coursework (4 lessons with self-checks at the end of each)

One, 50 minute online session with a Certified Helpmeet Coach at the end of the Quarter

Quarter completion timeframe of 2-4 months
Quarter 2: $125

It includes 3 lessons with self checks

Your second 50 minute online coaching session
Quarter 3 & 4: $75 each

Each quarter you will take 3 elective lessons. They will be chosen based on your individual needs and the revelation received from Q1 and Q2 Helpmeet Coaching sessions.
The Additional Perks of Enrolling in Helpmeet U:

Private Helpmeet U community Facebook page 

Exclusive invitation to quarterly impartation gatherings in various cities

Priority access to GYM events

Exclusive access to past GYM webinars

$50 off the enlisting fee for the Helpmeet Army mentoring program (if applicable)

Discount on future Helpmeet Webinars